Pai Gow Poker uses a standard deck of 52 cards plus one joker. A maximum of six players sit around the table along with the dealer.
The object of the game is quite simple: to beat the banker. The banker can be the dealer, another player at the table, or a player-dealer "team."
To do so, you make two poker hands with the seven cards that are dealt:
A five-card "high" hand (also known as the back hand/big hand)
A two-card "low" hand (also known as the front hand/small hand)
Your high hand must beat your low hand. For example, if your low hand is a pair of fives, your high hand must be better than a pair of fives.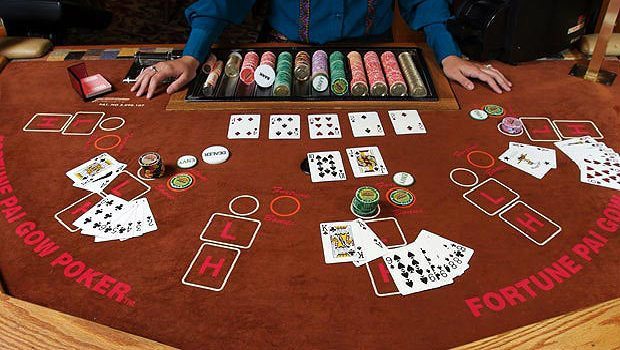 Once you set your hands, the dealer reveals them along with the banker's hands. There are then 3 possible outcomes:
The player wins both hands and wins their bet.
The dealer wins both hands and the player loses their bet.
The player wins one hand and the dealer wins the other, in which case the hand is a push and no money exchanges hands (except the commission–more on this later).
Ties go to the dealer in Pai Gow Poker. For example, if both you and the dealer have a low hand of A-K, the dealer wins that hand.
Our rating – 6.9/10